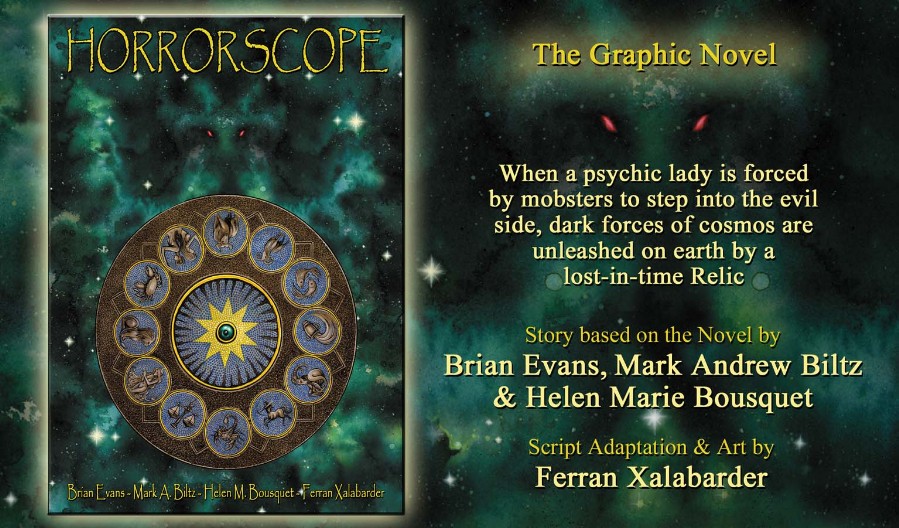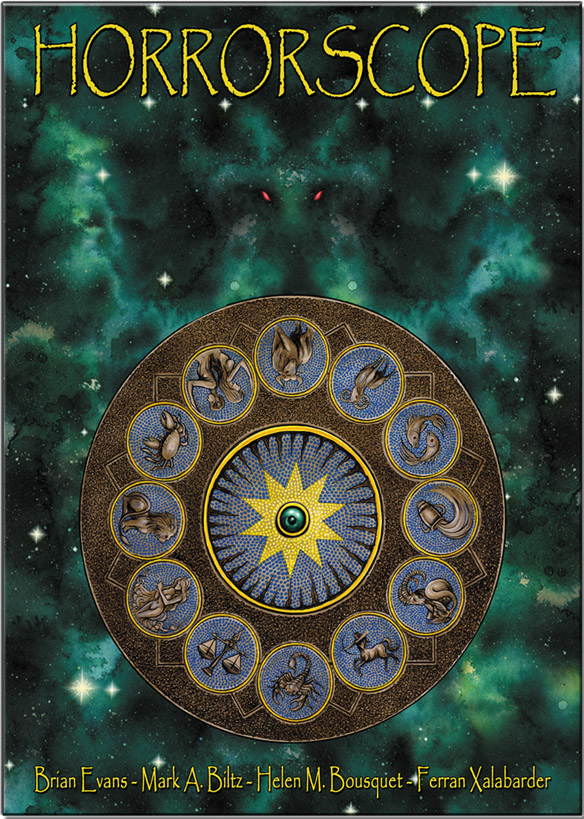 Comics
Horrorscope. The Graphic Novel. (English)
By Brian Evans, Mark A. Biltz, Helen M. Bousquet & Ferran Xalabarder.

Printed book. English version. Hard cover. Album format. Size A-4: 8,267" x 11,692" (21 x 29, 7 cm). 80 pages, full color. ISBN: 978-84-09-29086-4

Please, make sure you select your COUNTRY ZONE for the mailing costs on your way out.

Paperback edition (Amazon)
English version. Soft cover. Click here:
English version. Soft cover.
Click here:
SYNOPSIS:
Helen Wilson is a psychic who makes a living doing Tarot readings for twenty-five bucks at her Naugatuck home. She is the heart of this choral story, full of great characters interlinked over time and space. A good person, living a humble life, Helen helps her neighbors and friends whenever she can. But when a case of wrong serendipity brings her in the radar of the most powerful family of mobsters in New York City, terrible and strange things will start to happen. Dark and powerful forces have been dwelling for eons in the starry skies above us... and a
n unaware and fragile humanity is at their mercy.
You'd better be prepared…
"Horrorscope" Reviews:
"A distinctive horror tale with stark characters and radiant artwork"
Kirkus Indie. September 8, 2021
Click on the images to enjoy them in full
.
HORRORSCOPE. The Weekly Panel
Collection of panels by Ferran Xalabarder from the adaptation of "Horrorscope", the novel by Brian Evans, Helen Marie Bousquet and Mark Andrew Biltz.
Click on the images to enjoy them in full.